Alps snow strands thousands of tourists in Switzerland

]]> Europe Europe Alps snow strands thousands of tourists in Switzerland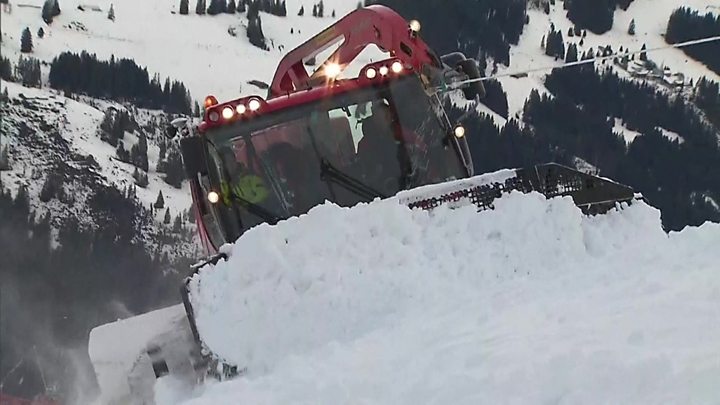 < p>Thousands of tourists have been left stranded after heavy snow in the Alps cut off towns and villages across Switzerland, France and Italy.
In the Swiss resort of Zermatt, more than 13,000 tourists are trapped and some visitors who wanted to leave were airlifted by helicopter.
Skiing is not possible as slopes are closed because of the risk of avalanches.
More than a metre (39in) of snow fell in parts on Monday alone.
On Tuesday, a metre more is forecast.
The avalanche risk is set at the rarely used maximum on a five-point scale. This is the highest it has been for almost 10 years.
British skier missing in French Alps
An avalanche hit a five-storey building in Sestrieres, in the Italian Alps, late on Monday, but th e 29 people staying in the building escaped without injury, fleeing through the garage.
French forecasters have described the snowfall as the kind that are only seen "once in every 30 years", with up to 1.8m (6ft) of snow falling in 36 hours in parts of the Savoie area.
A British skier - John Bromell, 39, from Willingham by Stow near Lincoln - went missing on Sunday at the Tignes ski resort in France Alps.
Bad weather prevented a search on Monday, however French police have told the BBC that a helicopter search for Mr Bromell will begin this afternoon.
Despite the fact that they are stranded, the tourists in Zermatt are reported to be in good spirits and the tourist office describes the atmosphere as "relaxed and comfortable".
Some have described it as "romantic", BBC correspondent Imogen Foulkes reports. Although there were some helicopter airlifts, these have now stopped, Zermatt authorities tweeted.
In the Simplo n region of Valais, where Zermatt is located, two metres (6.6ft) of snow fell in a 24-hour period, the Swiss ATS news agency said.
The first downhill training run for the men's World Cup in Wengen in the Bern canton was cancelled on Tuesday.
Organisers said snow and high winds had caused significant damage to infrastructure on the course.
Are you stranded in a Swiss ski resort? Share your experiences by emailing haveyoursay@bbc.co.uk.
Please include a contact number if you are willing to speak to a BBC journalist. You can also contact us in the following ways:
WhatsApp: +447555 173285
Tweet: @BBC_HaveYourSay
Send pictures/video to yourpics@bbc.co.uk
Upload your pictures/video here
Send an SMS or MMS to 61124 or +44 7624 800 100
Or use the form below
Top Stories
Steve Bannon leaves Breitbart News
The ex-Trump strategist steps down amid a furore over reported remarks about the president's son.
9 January 2018
'Waist-deep' California mudslides kill 8
9 January 2018
What the world thinks of Trump
9 January 2018
Features
The day I accidentally killed a little boy
A glimpse of a different Trump in action
Video
Could the Calais Jungle grow back?
Video
Fighting sexual harassment in Bollywood
Is coconut oil a superfood?
How Nigerian singers have won the hearts of Romanians
How does Trump's schedule compare to other presidents?
The apps that claim to help lose weight
Has Beijing's air quality improved?
Why you can trust BBC News
BBC News Services
On your mobile
On your connected tv
Get news alerts
Contact BBC News
Source:
Google News Switzerland
|
Netizen 24 Switzerland