TMC sweeps Bengal civic polls with 140 seats, BJP 2nd with 6


Home
India
TMC sweeps Bengal civic polls with 140 seats, BJP 2nd with 6
TMC sweeps Bengal civic polls with 140 seats, BJP 2nd with 6
Chief Minister Mamata Banerjee said, "I am indebted to the people for this victory and I thank them. Those who were scrambling for the third or fourth position secured only 0.1 per cent of the votes and got no seats."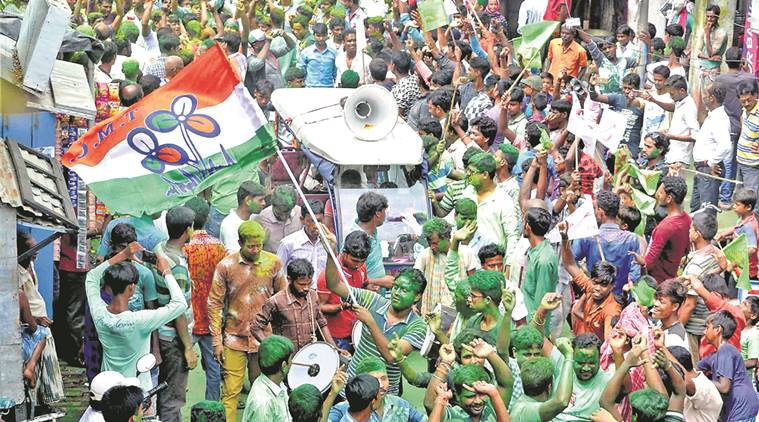 Trinamool supporters celebrate their party's victory in the municipal polls in Nalhati, Birbhum, on Thursday. PTI photo Related News
Bengal civic polls: Trinamool sweeps all seven bodies, BJP emerges as main challenger

West Bengal: Trinamool Congress leading in municipal polls

I-T dept raids on Karnataka minister vendetta politics: Trinamool Congress
The Trinamool Congress swept elections to seven municipal bodies in West Bengal on Thursday, winning 140 of 148 wards. The BJP emerged a distant second with six wards at a time it is trying to grow its base in the state.
In three civic areas â€" Durgapur in Burdwan district, Haldia in East Midnapore and Cooper's Camp notified area in Nadia â€" Trinamool made a clean sweep. The other four civic areas where elections were held were Panskura Municipality in East Midnapore, Dhupguri in Jalpaiguri district, Buniadpur in South Dinajpur and Nalhati in Birbhum.
Four of the seats the BJP won were in Dhupguri municipality in Jalpaiguri district. One seat each from Buniadpur municipality in South Dinajpur district and in Panskura in East Midnapore completed the BJP's tally of six wards. The Left Front won a single seat in Nalhati municipality of Birbhum, the Congress won none. One seat went to an Independent.
Chief Minister Mamata Banerjee said, "I am indebted to the people for this victory and I thank them. Those who were scrambling for the third or fourth position secured only 0.1 per cent of the votes and got no seats."
The BJP's Bengal chief Dilip Ghosh said: "We have emerged second in the civic polls. Now we will make preparations to become first in next year's panchayat polls. People of the state are disappointed with other Opposition parties and have started believing that the BJP is the only alternative to TMC because our party has the potential to give TMC a run for its money."
The CPM said the polls had not been fair. "It was not an election, rather a forcible capture of civic bodies. There is a nexus among TMC, miscreants and police and people are aware of it," said CPM MLA Sujan Chakraborty.
Trinamool, which was never in doubt of winning, said the Opposition was decimated because it never played a constructive role. Party secretary general Partha Chatterjee said: "The Opposition… only indulged in attacking the ruling party and criticising the government. They competed among themselves."
In Durgapur Municipal Corporation â€" the largest of the civic areas to go to polls â€" TMC won all 43 wards. State Sports and Youth Affairs Minister Aroop Biswas, who was the TMC's electio n in-charge in Durgapur, linked the sweep to Banerjee's announcement of a separate West Burdwan district and said "people have showed their full faith in her". He alleged that the BJP attempted to disrupt the poll in Durgapur "by bringing outsiders from Bihar and Jharkhand".
In Haldia, which was a Left bastion but where the BJP candidates have tailed Trinamool's this time, Trinamool is reported to have increased its vote share from previous elections.
For all the latest India News, download Indian Express App
More Related News
Trinam ool rejects allegation: BJP targets Abhishek over 'payments received from realtor under scanner'

Rajya Sabha polls: Congress names candidate for Bengal seat
Most Read
Aishwarya Rai Bachchan's shimmer gown is a be auty but she manages to ruin the look; here's how
Barcelona terror attack LIVE: Anti-Islam protests near Las Ramblas lead to violence, riot police in action
Amit Shah resigns as MLA, says Congress will be reduced to half in next polls
Reliance JioPhone: Here's how to pre-register the 4G feature phone via SMS
Best of Express
How a Bihar NGO siphoned off crores in govt funds under govt nose â€" with some help
BusinessInfosys war out in open, CEO Vishal Sikka quits, board blames Murthy
China hasn't shared monsoon river data: India
OpinionUP CM's encouragement of religious displays in police stations is troubling
OpinionCelebratory lights of the first I-Day were extinguished by darkness of Partition
Buzzing Now
Entert ainmentBareilly Ki Barfi movie review: This Rajkummar Rao, Ayushmann Khurrana and Kriti Sanon film works in fits and starts
EntertainmentBhoomi song Trippy Trippy: Is this Sunny Leone's sleaziest dance number?
EntertainmentWatch: Salman drools over the customised Ferrari of a super-rich Dubai kid
TrendingVIDEO: Jon Snow touched Drogon, and turned into a dragon? See Khaleesi's reaction
TrendingVIDEO: This couple stole a doorbell, which happened to be a CAMERA recording them
Top News
Will take over 449 schools only as last resort: Arvind Kejriwal
LifestyleHelp my only child survive!
Barcelona terror attack LIVE: Anti-Islam protests near Las Ramblas lead to violence, riot police in action
BusinessArtificial Intelligence & robotics: Will exit affect Infy's tech edge?
Sports Cook hits double before West Indies resistance
SportsI never felt Kumble was strict: Saha
Chitrangada Singh, Kalki Koechlin, Radhika Apte turn showstoppers on Day 3 of LFW Winter/Festive 2017
LifestyleAishwarya Rai Bachchan's shimmer gown is a beauty but she manages to ruin the look; here's how
TechnologyReliance JioPhone: Here's how to pre-register the 4G feature phone via SMS
TechnologyNokia 8 vs Samsung Galaxy S8+ vs Apple iPhone 7 Plus vs OnePlus 5: Battle of the premium smartphones
Aug 19: Latest News
Charlottesville Mayor says Lee statue must go as debate over US slave past rages
Venezuela's constituent assembly assumes power to legislate
Venezuela's sacked attorney general is in Colombia, authorities say
Donald Trump makes no decision on Afghanistan strategy
Barcelona terror attack: Spanish plan for carnage started with botched explosion
Have you read these stories?
Relatives sold 16-year-old for Rs 5 lakh: Omani sheikh lured teen with videos of Burj Khalifa, malls,......

70 years of Independence: How Communists kept pestering the British throughout the freedom struggle...

Watched 'Annabelle: Creation' yet? The horror flick is making Twitterati's blood run cold...

Aishwarya Rai Bachchan's shimmer gown is a beauty but she manages to ruin the look; here's how...

Photos: Ashmit Patel and Maheck Chahal get engaged...

WATCH: This little kid can't figure out what this Father's Day gift is, and we LOVE it...
Source:
Google News